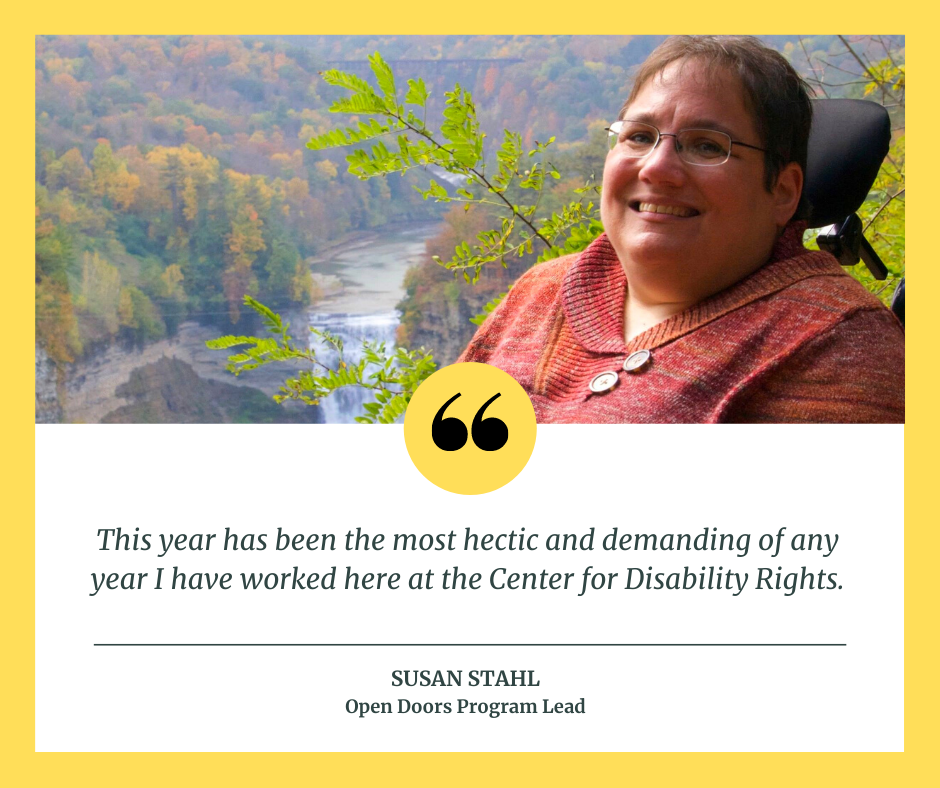 Susan Stahl has worked in our nursing facility transition services department for over ten years. Everyday she works to ensure Disabled and older New Yorkers have opportunities to return to life in the community. It's not an easy job. Most of the people she supported never knew independent living with a disability was possible when she first met them. She has assisted hundreds of people to access long term services and support for activities of daily living outside of a nursing home. She has opened many minds to the possibilities of Independent Living, and as a result, she has made a huge positive impact on countless lives. 
Finding an accessible home, and the funding to hire aide services is not the only way our transition services department can help Disabled and older New Yorkers. Susan also works to make sure Disabled and elderly New Yorkers can continue living in their own home by sharing information about or referring them to various community resources that may be needed.   
In 2020 the job became harder because of the COVID pandemic.  Susan was no longer able to visit individuals in nursing facilities and had to depend on communication through the internet or telephone. This made contacting Disabled and older people to discuss independent living plans more difficult than usual, but it didn't stop Susan from getting the job done. Despite the extraordinary challenges since March she and others on the transition services team successfully transitioned 116 people with the services they needed to move out of a nursing home and into their chosen home. 
The tragic realities of life inside nursing homes were exposed during the COVID pandemic and it had increased the demand for services which Susan, and others in our transition service department provide. Our team of transition specialists is ready to meet the needs of Disabled and older New Yorkers in 2021. If you know of someone who could benefit from our services please contact: (585) 546-7510 and ask for Susan Stahl, Open Doors Regional Lead.