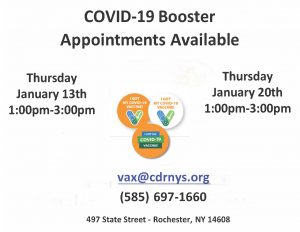 The Center for Disability Rights and the Regional Center for Independent Living are holding two COVID-19 Booster Clinics at the main office at 497 State Street in January. The first Booster Clinic will be on Thursday January 13 from 1:00 pm – 3:00 pm. The second Booster Clinic will be on Thursday January 20 from 1:00 pm – 3:00 pm.
In 2021, CDR and RCIL successfully held vaccination clinics and vaccinated almost 200 people. We are now holding booster clinics to help ensure that everyone is as fully vaccinated as possible against COVID-19 and its variant/s.
"Seniors and people with disabilities are especially at risk and its important that we get vaccinated, but equally important that our family, friends, and neighbors do so also," said Rebecca Payton, Senior Director of Independent Living.
CDR and RCIL are uniquely situated to provide physical access to vaccinations in a comfortable and understanding atmosphere. "I am extremely grateful to be getting my booster at CDR where I'm familiar with the building as well as knowing everyone," said Roberta Wallach, CDR/RCIL Board Member.
The booster vaccine provided at the January clinics will be Moderna and can be used as a booster in combination with any vaccine. You are eligible for the Booster six months following your last dose of Moderna or Pfizer. If you received the Janssen vaccine, eligibility is two months after your initial dose.
Thank you to the nurses from the Office of Mental Health (OMH) who we are partnering with us again to offer vaccinations and boosters. "We are grateful for our partnership with the OMH nurses and for the opportunity to continue our vaccination efforts and ensure that as many people as possible get vaccinated," said Susan Stahl, Manager of Transition and Diversion Services.
To schedule a booster at one of our clinics in January, please contact: (585) 697-1660 or email vax@cdrnys.org.
For more information about CDR, please visit our website and follow us on Twitter and Facebook.