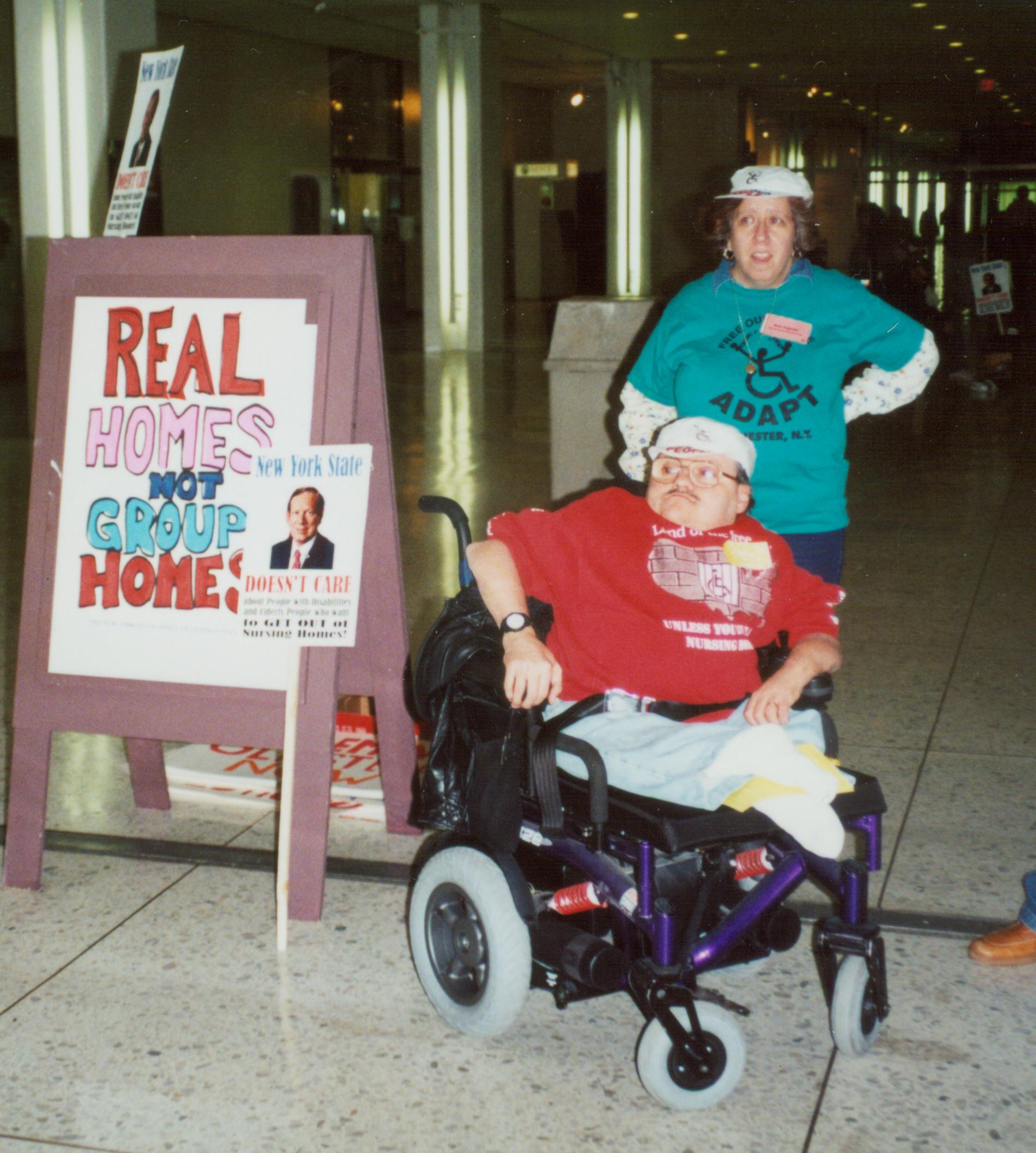 Today is Wishbone Day and this year because of the COVID19 crisis, it is more important to celebrate it than it ever was before.
Wishbone Day is an opportunity to learn about how people with Osteogenesis Imperfecta (OI) made our communities stronger, just like one of the Center for Disability Rights founding board members, Joe Bonomo.
Joe grew up during a time when most children with OI like his, lived in state institutions or nursing facilities and were not allowed the opportunity to go to school.  Joe was no different. He spent his childhood in a state institution and didn't go to school. When Joe became an adult he escaped institutional life and went to live on his own in Rochester NY.
In Rochester, Joe became involved with the Rochester Center for Independent Living.  He later became a founding board member of the Center for Disability Rights and worked to make sure CDR had the necessary resources for people with disabilities to have opportunities to live in their own homes, instead of nursing homes (like the one Joe lived in).  Joe was always ready to join ADAPT to demonstrate the urgency needed to free disabled people from institutionalization.  Although Joe passed away some years ago, his memory lives on at the Center for Disability Rights. In honor of Wishbone Day we want to honor Joe's important work to establish the Center for Disability Rights.  His legacy lives on in the work we do.
Joe's wife Debbie Bonomo, the current board chair for CDR, shared these words about her late husband; "Joe fought so hard to end institutionalization because of the abuse he experienced in the institution when he was a child. He worked to educate himself because he had been denied access to learning. Everything he did he did, it was through his own resourcefulness, he got himself out of Monroe County Hospital, got himself a job at Kodak, he helped found RCIL & CDR and served on CDR's board. We created our family together but everything he did was a feat of will. What Joe wanted most of all was to live as long as he could and make a difference as much as he could. He was Phenomenal!"
We invite you to celebrate Wishbone Day with us. When celebrating please remember the day is not about finding a cure for Osteogenesis Imperfecta (OI), or an effort to raise money. All Wishbone Day celebrations should be about raising consciousness about how your behavior and decisions impact the inclusion, health, and safety of others. It is also a time to listen and learn from people with OI's lived experiences. You can make our communities safer and stronger if you allow for heightened conciseness for how your decisions impact the inclusion and safety of other people.
The COVID19 crisis made the mission of Wishbone Day more important than ever before. Recovering from the pandemic requires us to become more aware of how our actions impact other people's health. People and families with OI have been forced to live in isolation to stay safe for far too long. Before COVID-19, our societal awareness of the need to keep each other healthy and safe was basically nonexistent. The pandemic is making massive sudden societal changes. People are slowly realizing how important it is to be respectful of each other's health, a lesson they should have learned many Wishbone Days ago, but let's hope this year they take this message to heart.
The advocacy Joe and others in the disability rights movement resulted in major improvements to the physical accessibility of America. But when thousands of Disabled New Yorkers are still waiting for the opportunity to live in their own homes, not nursing homes or other congregate-care facilities, we know the fight for disability rights – and freedom – is far from not over.
Today, on Wishbone Day 2020, please take moment to become more aware of how your decisions and behaviors impact other people's health and safety. Once you have done that, take a moment to think about Joe and how he worked to make the Center for Disability Rights an organization for anyone seeking to live in freedom and outside of nursing homes or other institutions.