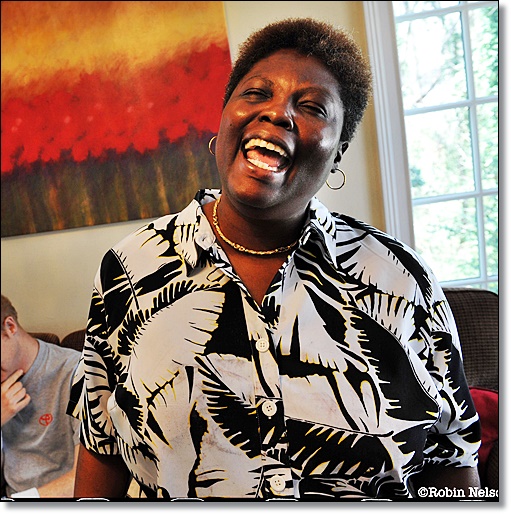 Lois Curtis a Black disabled woman activist icon has passed away. Her legacy and life will forever be a part of the disability movement for freedom. Lois Curtis was the lead plaintiff in the historic Supreme Court Case Olmstead v. Lois Curtis.
She was born in 1969 in Georgia and lived with her family until the age of twelve. Lois had cognitive disabilities and schizophrenia and would wonder off in her community. Her mother called on authorities multiple times in search of her child. This led to an ongoing process of being in the custody of authorities who gave Lois' family ultimatums of either putting her in jail or sending her to mental health institutions. Yes, these were the choices for a 12yr old Black disabled girl in Georgia. She was in and out of Georgia Regional Hospital for adolescence for most of her teen-age years. Then at the age of 19 she was institutionalized in the notorious Georgia Regional Hospital. While in the hospital she was heavily sedated for her mental health condition. She was at the mercy of the staff within these hospital settings. It has been documented over the years that the treatment of people with disabilities in institutions can be and often is horrific.
Lois Curtis discussed her time in the institution on multiple occasions. She explained that the medications kept her tired and lifeless more often than she wanted. She felt that living in an institution kept her from living a more active and free life. She started calling the Atlanta Legal Aid Society on a regular basis begging them for help to be released from Georgia Regional Hospital setting and provided with services to live on her own in the community.
In 1995 the Atlanta Legal Aid Society assisted Lois with filing a case against the state of Georgia. The defendant in the case was the Commissioner of the Georgia Department of Human Resources, Tommy Olmstead. His name is how the community uplifts this case by calling it the Olmstead case. The erasure of Lois Curtis' name when discussing the case has been harmful to many BIPOC disabled for many years. But even more so to the legacy of this phenomenal Black disabled woman.
On June 22, 1999, the United States Supreme Court held in Olmstead v. L.C. (Lois Curtis) that unjustified segregation of persons with disabilities constitutes discrimination in violation of Title II of the Americans with Disabilities Act. (ADA.gov) Lois won her case and was able to live her life outside of an institution, in the community as she wanted. In that time she became a self-taught visual artist, songwriter and singer. In 2011 Lois had the honor to go to Washington, DC and meet President Obama who hosted her in the White House Oval Office.
She spent many hours fighting for the release of other disabled people being held in institutions. Lois used her "fame" to create space for others to tell their stories and she insisted on not being the last disabled person released from an institution. She went around the country speaking and creating art to bring awareness to the ongoing struggle of the institutionalization of disabled people.
It is horrific that today in 2022 disabled people remain institutionalized without their permission and are fighting to get out. The ADA and the historic SCOTUS Olmstead v. Lois Curtis case are not enough to free disabled people from these institutions. In the COVID pandemic disabled people in institutions continue to die at a higher rate than any other group, every day in this country. The treatment of disabled people in institutions has been well recorded as abusive and dreadful. The premise of the ADA is community integration but it is also the minimum. More needs to be done to create pathways for the thousands of disabled people who like Lois Curtis want to get out of institutions and be free and live in the community.
The legacy of Lois Curtis as a Black disabled woman activists is something that many must not only admire but respect. Her fierce and loving attitude towards life is something that all of us in these times need to learn from and use in the fight for collective liberation. Lois is an example of how love can be the driving force for all that we need. Her kind and enduring spirit is what we should remember! Rest in Power Queen – Never Forget!
Lois Curtis had Pancreatic cancer and passed away yesterday November 3, 2022. In her time of illness there was a GoFund me page set up to assist her with medical bills. Now that she has passed on the page remains open for funds to close out her life and have an amazing homegoing service that she deserves. Please consider making a donation by going to this link: https://www.gofundme.com/f/final-expenses-for-the-lovely-lois?utm_campaign=m_pd+share-sheet&utm_medium=social&utm_source=twitter