Updated as of November 16, 2017: 
The #CDRchat scheduled for today is postponed until further notice. The House is voting today to pass their version of the tax bill and the Senate version is working its way through the finance committee this week. Due to the widespread impact these bills could have on the disability community we are postponing our chat and encouraging everyone to steer their energy in that direction, using the hashtag #TaxonDisability.
Are you unsure how to present your accommodation needs while looking for employment? Do you want to share your experiences or hear the stories of disability inclusion in a workforce setting? #CDRchat, presented by the Center for Disability Rights, will focus on the topic of "Disability Inclusion in the Workplace" this month! The #CDRchat will be co-hosted by Dustie Huff and Rebecca Cokley. Dustie is an Independent Living Supervisor for Regional Center for Independent Living in Rochester, NY. Rebecca is a senior fellow at American Progress in Washington, DC, where her work focuses on disability policy. We are excited to have them co-host this chat to speak about this topic with all of you!
You are welcome to join in on the chat! Tune in on Thursday, November 16th, at 3pm EST!
To participate, you can read the questions for this chat below. There will be a recap of the chat posted here.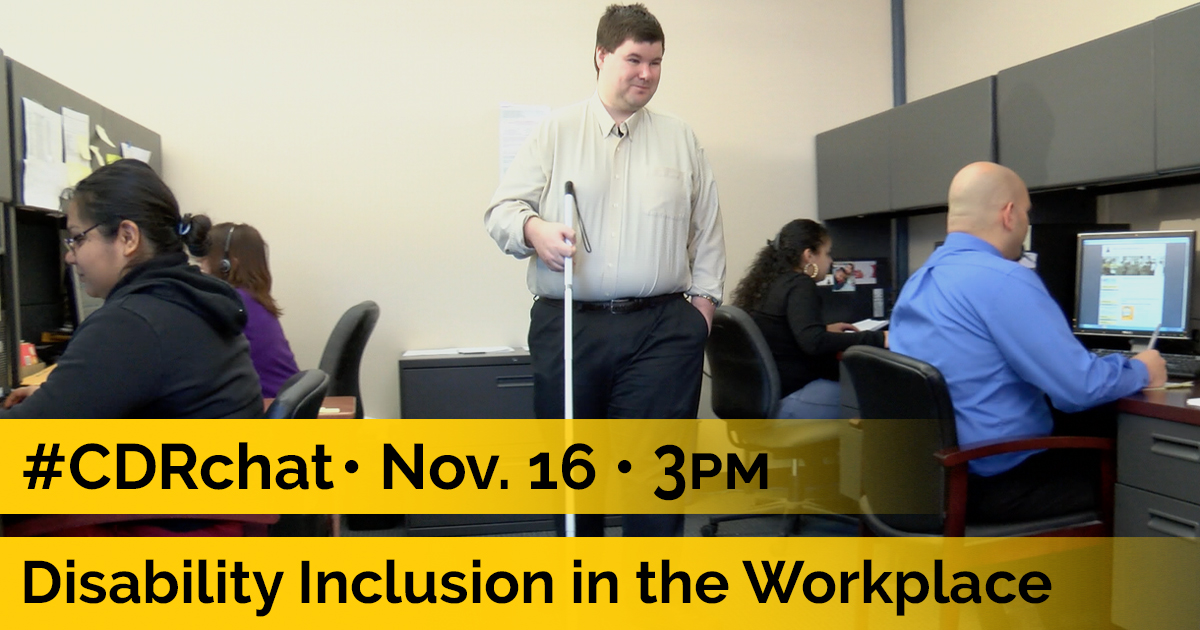 How to Participate:
Follow @CDRNYS, @RCILNY, and @RebeccaCokley on Twitter.
When it's time, search #CDRchat on Twitter for the series of live tweets under the 'Live' tab for the full conversation.
If you might be overwhelmed by the volume of tweets and only want to see the chat's questions, check @CDRNYS's tweets. Each question will tweeted 4-5 minutes apart.
Check out this explanation of how to participate in a twitter chat by Ruti Regan: https://storify.com/RutiRegan/examplechat
Check out this captioned #ASL explanation of how to participate in a chat by @behearddc
https://www.facebook.com/HEARDDC/videos/1181213075257528/
Please remember to use the #CDRchat hashtag when you tweet.
If you respond to a question such as Q1, your tweet should follow this format: "A1 [your message] #CDRchat"
Questions
Q1: Why is disability inclusion in the workplace important?
Q2: When interviewing for a job, what types of disability-related questions should not be asked and how do you respond to them?
Q3: What are the steps you should take if experiencing discrimination during an interview?
Q4: What are considered reasonable accommodations in a work environment?
Q5: Do you have to disclose your disability to your employer? If so, when & how do you disclose reasonable accommodations you need?
Q6: What are the advantages of disclosing one's hidden disability?
Q7: What experiences of disability inclusion would you pass on to other people looking for employment?
We look forward to chatting with you during the #CDRchat!